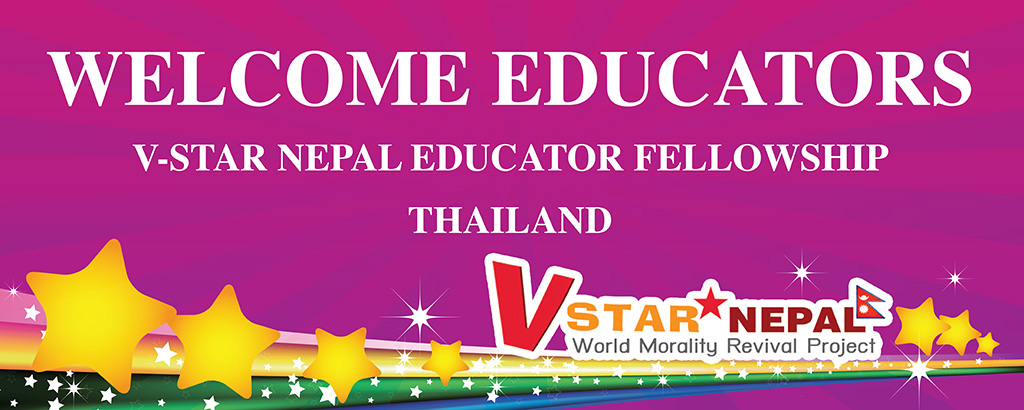 From the Founders:
Phornsan Kamlang-ek, President, Absolute Happiness Foundation
"Morality is one of the greatest Unifying forces and pillars of social harmony in our world. Today's world is ready for new ideas and new leadership, but it is our children who will carry these responsibilities.  The V-Star Nepal projects aims to prepare the youth of Nepal in such a way that they will be the vanguards of morality, consciousness and knowledge.  Morality is the essential knowledge that guides us like a compass in our daily decisions.  A worthwhile education should therefore target the total development of the learner's character, a comprehensive knowledge and experience of how to be productive and happy in life, and the V-Star Project is the most effective way to provide an effective moral education to our youth."
Nirvana Chaudhary, Managing Director, Chaudhary Group
"I am convinced V-Star Nepal is what we need, what every child needs, what every individual needs.  Apart from seeing all the students' enthusiasm and excitement and belief in the program, I also saw something very peculiar in their faces: contentment, purity and happiness.  They are happy! And happiness is the key to life.  If you are self content and very happy in your individual way you can make a world of difference."
MISSION
V-Star is another way to say "Virtuous Star".  That is the mission of V-Star Nepal: to transform students to become people of virtue, living their life in a way that brings light to the world, just like a star.
V-Stars use the principles of Universal Goodness as a roadmap to a brighter future for themselves and Nepal.  Through participating in the V-Star program children practice good actions repetitively and after completing the 12 week program they have solidified virtuous habits and develop a virtuous character.  When guided by these universal goodness they can help to create peace and become model citizens caring not only for themselves but for their family the society and even the country at large.
Since the youth are influenced by three groups: namely, society, teachers and parents, V-Star Nepal also strives to bridge the gap between these parties and guide these groups on how to educate the new generation in moral values.
Teachers noted students who participated in the V-Star program have more concentration, less conflict, show more gratitude, have good manner and interact with other in a more friendly manner.  The students who have graduated from the program said that they feel more confident and happy, build discipline, understand the importance of respect and "cool" with being good.
OBJECTIVES
1) V-Star  Nepal is a project under the direction of the Absolute Happiness Foundation, a non-profit organization who has the wish to give back those things which are truly beneficial to Nepal and its people.  Nepal is the birthplace of the Buddha, a great teacher and perfect human being, and it is in His legacy that V-Star Nepal wishes to propagate the principles of goodness and life which He taught.
2) V-Star Nepal offers a specialized training program to teachers, educators, trainings, principals, educational directors etc. in Nepal, where they practice and learn the tried-and-tested techniques of Morality Development, which is based on meditation, as well as the practical application of universal moral virtues.  The Absolute Happiness Foundation offers full sponsorship of the training save for the airplane ticket to fly to Thailand.
3) During the training teachers and other educators will receive training in how to develop and propagate morality in the classroom, they furthermore receive documents, literature, media and workbooks to support the training process in and out of the classroom. The success of the program can be ascribed to the fact that it does not require additional class hours, thus easily implemented.
4) Once trained, teachers will go back and spread V-Star to their own classrooms and schools.  Each student will receive a journal workbook based on meditation practice and the application of universal virtues which they need to complete each day for 12 weeks.  After they graduate the 12 week program, they will have formed good new habits.  The pilot schools which implemented the program in Nepal have already noted a marked improvement in their habits and behavior, noticed by both teachers and parents.
A conservative estimate is that 1 teacher is able to reach 100 students. This means the project has an incredible growth rate, a good example is in Thailand where the project is in it's 9th year already, and more than 400 000 Thai students have graduated from this program.  This coming October 2014, V-Star Nepal has invited 100 teachers from Nepal to join the training and the hope is to reach 10 000 students.